There is a fascinating article published by the Oxford Journals titles,
Healthy nature healthy people: 'contact with nature' as an upstream health promotion intervention for population
. It summarizes how important nature is to the human mind, body and spirit. In the cosmic picture, humans have only been living as "urban dwellers" for a very short amount of time. From the biologic perspective, it seems we all crave contact with nature and an absence from that connection affects us on multiple levels. Why not let nature inspire your
Pacific Place home design
?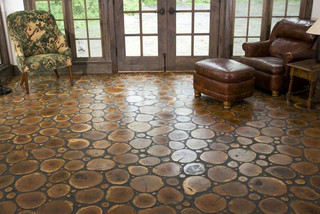 How about a forest floor?
This stunning
Forest Floor floor tapestry
is the creation of east coast-based
Angela Adams
. Adams is a home furnishings designer and each of her pieces is named for favorite people, places and things. Her furnishings and tapestries are functional art and every piece is infused with elements of nature.
Logs and Stones
. While hardwoods and natural stone have long been a popular choice for flooring, innovative flooring manufacturers have created materials that are even more rustic and natural in their appearance. For example, this
Logs and Twigs flooring
is available in pine and oak. Your bathroom or shower can be transformed into a soothing river bed using easy-to-install
river stone mosaic sheets
.
Birds and Butterflies
. Who doesn't find pleasure watching winged creatures in flight? While you can
plant bird and butterfly friendly gardens
to attract them to your outdoor living space, why not create an interior design that's bird and butterfly friendly as well? You can use
framed art pieces
or
upholstery
and accent pillows to add color to pay homage to your feathered friends.
Abandoned bird's nests
are another artistic way to decorate your home. Unique
metal wall art
adds an ethereal quality to any wall - the butterflies seem to be in passing right through the living space. Hunt for vintage and antique
framed butterfly taxonomy illustrations
that can be set on hearths, hung on walls, or propped on book cases and dressers.

Natural colors
. It's true that earth tones and neutral colors can be used to mimic nature's background, but sometimes the best way to infuse your home with nature's energy is to mimic her more vibrant colors. This
Atlanta loft space
uses a vital mossy green, bright blues, and other warm energetic tones that look like a meadow fairy flew by with her paint palette and brush.

Curves and soft angles.
If you are considering a remodel, why not take some of your more angular spaces and grace them with natural curves, softer lines, and gentler forms. This amazing
Ojai house
is a testament to nature inspired design and influences.

Indoor Landscaping
. With the right amount of natural lighting or special grow lights, you can create
indoor landscaping
of all shapes and sizes. From simple cut flowers and floral arrangements, to full fledged terrariums and indoor trees, a few living additions can make a world of difference.
Imagine the pleasure you'll receive when you can get back to nature right in your very own home.